Lake County Capitalizes on Volcanic Wines
April 27, 2017
The eruption of Mount Konocti about 11,000 years ago was instrumental in the history of Lake County. Last week, during the Lake County Winegrape Commission's Momentum conference, local grapegrowers considered how the volcano could help shape the area's future as a winegrowing region.
Many of the county's growers, who tend about 10,000 acres of grapes (up sharply from a few years ago), crowded into the historic Soper-Reese Theater in the county seat on Clear Lake.
The theme was "volcanic wines," and that term certainly applies to many of the county's products. It's the home of numerous dormant or extinct volcanoes, most notably the dramatic Mount Konocti rising above Clear Lake and even a small "drive-in" volcanic remnant in High Valley.
John Szabo, author of Volcanic Wines, gave a presentation about volcanic wine regions throughout the world, from the Azores and Madeira in the Atlantic Ocean to the slopes of Mount Etna and Vesuvius in Italy, and even prime wine regions of Germany and Hungary. Szabo argued that wines from volcanic soils are distinctive, and the conference explored ways that Lake County could leverage that fact, including a tasting of "volcanic" wines.
Starting off the conference, however, was well-known professor of wine business and home Pinot Noir grower and winemaker Dr. Liz Thach, Master of Wine, who probably surprised much of the audience with a report on the preferences of American wine consumers based on a survey of more than 1,000 diverse consumers. It turns out they liked semi-sweet to sweet, fruity wines and showed a strong distaste for tannic and dry wines, the attributes that are "supposed" to be superior, according to many wine critics and wine literature.
Demand for grapes is high; growers in no hurry to commit to buyers
A key part of the program was a report focusing on the Lake County wine business from Todd Azevedo of wine and grape brokerage Ciatti Co.
Azevedo first presented overall information about the wine business: Wine revenue is growing faster than volume, demonstrating a move upward in the market as consumers choose more expensive wines. Wines priced between $10 and $15 are growing rapidly on a large base.
He also noted that the 2016 California wine grape crush of 4 million tons was larger than 2015's 3.7 million tons but considerably smaller than the 4.24 million tons of 2013.
In the North Coast, which includes Napa, Sonoma, Marin and Mendocino and part of Solano County as well as Lake County, the supply of grapes is tight. "Buyer activity (for 2017) has been early, very similar to last year," he said. "Chardonnay, Pinot Noir and Cabernet Sauvignon are all in high demand, but Zinfandel is lagging."
He added that growers have been reluctant to commit to selling their crop early. "They're waiting to better understand the market," i.e., expected shortages may drive up prices.
Azevedo said a limited quantity of grapes is available since the majority are under long-term contract. That means that the grape market should remain strong.
Winery buyers, on the other hand, are considering other sourcing options like moving from a North Coast designation on their labels to a California designation because of the tight supply and higher prices.
He commented that spot prices for Lake County/North Coast (not Napa or Sonoma) grapes last fall were good but far behind those from Napa and Sonoma.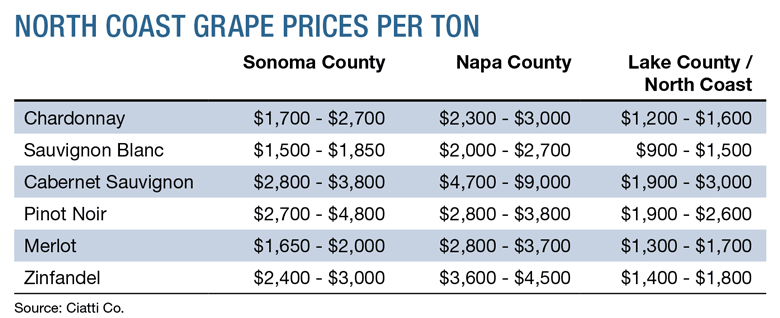 Moving beyond grapes, he took a look at prices for bulk wine. Inventory is largest in January each year, and he said that total inventory is down dramatically, from 32 million gallons in 2015 to 19 million gallons in 2016 and 17 million gallons this January.
"It's swung from long to short," Azevedo said.
North Coast Chardonnay and Sauvignon Blanc are especially short, but most varieties are in tight supply. Specifically, there's high demand for Chardonnay from Russian River Valley and other areas including Mendocino and Lake counties.
He also said there is large demand for Sauvignon Blanc. "The light 2015 and 2016 crops reduced supply, though Lake County was different in 2016 with good yields."
Among red wines, he noted that the older Merlot vintages are mostly gone, and there's moderate demand for current vintages, but Pinot Noir is short in all areas of California. The large 2013 Zinfandel vintage is still around, so the bulk market is slow for that varietal.
However, there's high demand for Cabernet Sauvignon, especially from Sonoma and Napa counties. "Cab is king," Azevedo said, adding that Napa may have peaked in the second quarter of 2016.
Overall, Azevedo said, the bulk market is balanced statewide. "The 2016 crop helped (some) after a severe shortage from the 2015 crop, but it remains a challenge for buyers to find the right wine at the right price from the right appellation. As always, buyers feel they're paying too much. Sellers feel they're selling too cheaply."
Looking back, he noted that after three years of larger harvests and expanding premium programs from available bulk wine, the short 2015 crop flipped the dynamics. In the first quarter of 2016, bulk inventories were depleted and prices shot up almost overnight.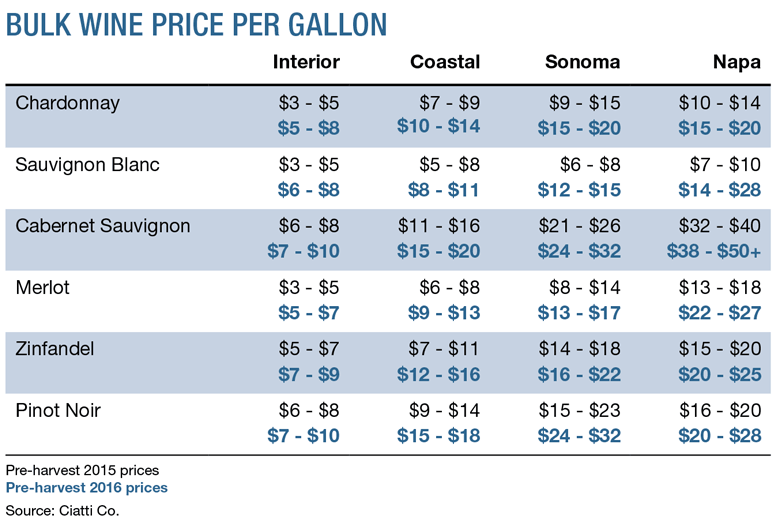 Bulk market pricing
Azevedo said that changing dynamics of the wine market are forcing wineries to rationalize their supply and brand positioning to maintain margin and brand growth.
This typically means moving to a less expensive appellation, but other options include raising bottle prices, accepting lowered sales growth and introducing new premium brands with California sourcing rather than a premium appellation, like Josh, Butter and Gott's. Wine companies have paid high prices for brands without vineyards including Meiomi, the Prisoner and Orin Swift, and that affects the market.
Azevedo reminded the audience that the top seven wine companies account for 73% of domestic sales.
Azevedo summarized by emphasizing the new and vibrant marketplace. "All brands are looking to get creative in their sourcing to find a sustainable margin. Grape price looks stable into the future," but he admits that there's no ceiling on price.
This could be an opening for more premium imports, but Lake County appears well positioned to benefit as Napa and Sonoma brands seek to trim grape costs.
Ed. note: This article by Paul Franson was originally published by Wines & Vines on March 30, 2017.
With major wildfires occurring every year in California,...

---

More than 60 growers, vineyard consultants, and pest...

---